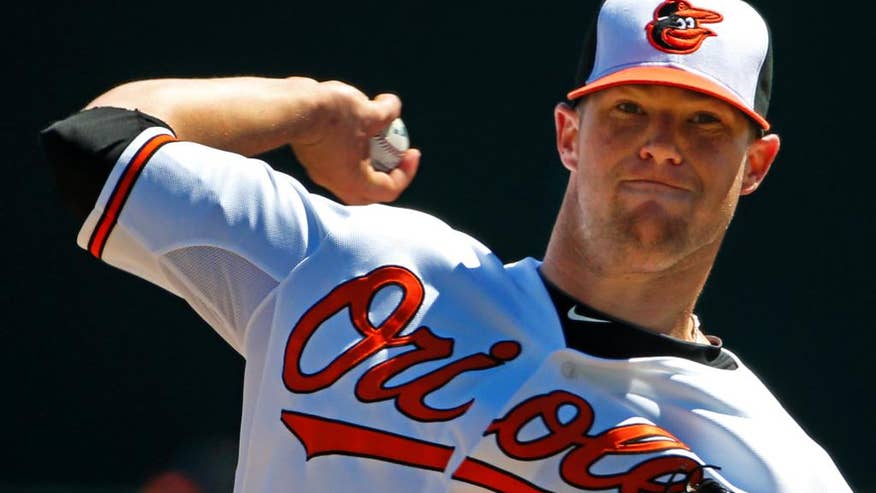 Cleveland Indians at Baltimore Orioles (-138)
Analysis: Bud Norris has been Baltimore's best starter this season after securing a spot in the rotation coming out of Spring Training.  Indeed, Norris owns a 3.58 ERA and 1.13 WHIP this season, including a 2.25 ERA and 1.15 WHIP at home and a 2.67 ERA and 0.98 WHIP at night.  Norris has allowed three runs or less in four of his last five starts, and he pitched seven strong innings in his lone career start against the Indians last season, allowing one run while striking out eight.   Norris should also take comfort in the fact that Baltimore's offense is finally clicking as the Orioles have scored 30 runs in their last four games.
I also like the fact that Norris is supported by a solid Baltimore bullpen that owns a 3.69 ERA this season, including a 3.04 ERA at night and a 2.66 ERA over the last seven games.  Meanwhile, Cleveland starter T.J. House made his Major League debut on May 17 wherein he pitched one inning of relief against the Athletics.  Just three days after being demoted to the Minors, House is scheduled to make his first Major League start against Baltimore.  The young southpaw garnered a 2.40 ERA with Triple-A Columbus this season, but he projects to be nothing more than a potential #5 starter or long reliever in the Majors.
The situational analysis is also favorable to the Orioles as Cleveland has played three extra-inning games in its last four, including consecutive thirteen-inning affairs Wednesday and Thursday.  Take Baltimore and invest with confidence.
Minnesota Twins at San Francisco Giants (-161)
Analysis: Minnesota starter Kyle Gibson is 1-2 with a 7.41 ERA and 1.88 WHIP on the road this season, including his last road outing wherein he yielded six earned runs on seven hits to the Tigers (9-3 loss).  In his lone interleague start this season, Gibson allowed five earned runs on nine hits in 6 2/3-innings of work against the Dodgers.  The biggest issue facing Gibson is a woefully inadequate Minnesota offense that is batting just .244 with a .319 on base percentage on the road (4.5 runs per game), .208 with a .279 on base percentage versus National League opposition and .254 with a .302 on base percentage over the last ten days.
San Francisco right-hander Tim Lincecum is coming off two solid outings wherein he allowed 4 earned runs on 9 hits in 13 2/3-innings pitched.  Even more promising is the fact that Lincecum compiled seventeen strikeouts over that span, including 11 Ks against the Braves.  San Francisco bettors can also take comfort in the fact that San Francisco relievers possess a 2.26 ERA and 1.01 WHIP in 2014, including a 1.33 ERA and 0.90 WHIP at home, a 2.38 ERA and 1.08 WHIP at night and a 1.08 ERA and 0.60 WHIP in interleague play.  From a technical standpoint, San Francisco is a profitable 16-7 (+10.9 units) versus teams with a winning record, 17-1 (+16.1 units) versus starting pitchers who strike out three or less batters per outing and 7-0 (+8.4 units) versus American League Central foes.
With Lincecum standing at 16-4 (+12.8 units) following a win, take the Giants and invest with confidence.