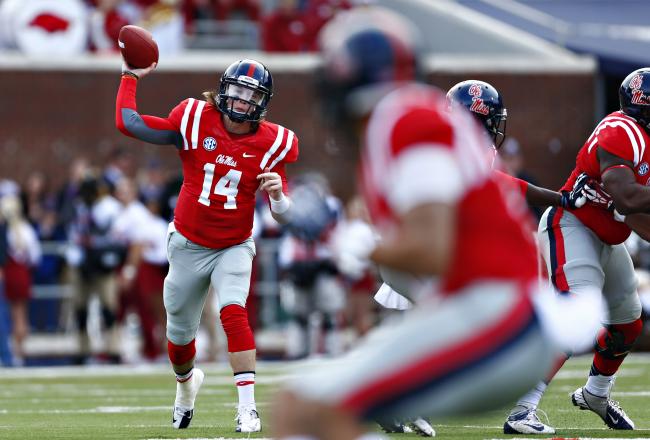 Mississippi is one of the hottest teams in college football as the Rebels have reeled off four consecutive wins, including an impressive 27-24 win over LSU as 9.5-point underdogs.  Rather than suffering a letdown following that win, Mississippi has gone on to secure double-digit wins over Idaho (59-14), Arkansas (34-24) and Troy (51-21). The Rebels have averaged 42.8 points during their four-game win streak, eclipsing 500 yards in each game.  The recent return of star running back Jeff Scott further enhances Mississippi's attack as he garnered 424 yards in his first five games before getting injured against Texas A&M on October 12.  Scott returned for the first time last week and looked 100% healthy as he compiled 54 yards on 11 carries against Troy.
Mississippi Offense:
Mississippi is averaging 34.5 points per game at 4.8 yards per rush play, 8.1 yards per pass attempt and 6.7 yards per play, which is 0.8 yards per play better than average.  Moreover, the Rebels are 5-1 at home this season where they are averaging 40.0 points per game at 5.0 yards per rush play, 9.5 yards per pass play and 562 total yards (7.0 yards per play).  Over its last five games, Mississippi has averaged 569 yards at 7.2 yards per play against teams that would allow just 6.2 yards per play to a mediocre offensive squad.  While Mississippi's offense is 0.8 yards per play better than average for the season, the Rebels' attack has been 1.0 yards per play better than average over the last five weeks.
Mississippi Offense vs. Missouri Defense:
+0.2 yards per play advantage overall from line of scrimmage
Missouri is allowing 5.1 yards per play to teams that combine to average 5.7 yards per play, thereby making the Tigers' defense 0.6 yards per play better than average in 2013.  However, the Rebels still possess a 0.2 yards per play advantage offensively in this game and my math models project 6.2 yards per play for Mississippi in this game (505 total yards).  Mississippi should also dominate the time of possession as the Rebels are averaging 9.0 more plays per game than their opponents this season (Missouri is -3.7 in play differential).
Mississippi also possesses an underrated defense that is 0.4 yards per rush play, 1.0 yards per pass attempt and 0.6 yards per play better than average.  Over its last three games, Mississippi is limiting opponents to a mere 2.9 yards per rush play and 4.9 yards per play.
Mississippi Defense vs. Missouri Offense:
+0.5 yards per pass attempt advantage
-0.1 yards per play disadvantage overall
Overall, Mississippi's defense matches up well against the Tigers' attack, especially after taking into account the teams's respective performances at home versus on the road.  The concern for Missouri backers is a defense that is yielding 441 total yards away from home this season.  And, while Missouri quarterback James Franklin returns Saturday for the first time since week 7, it's hard to believe that he will be 100%.  In fact, my math models indicate that having Franklin behind center for tonight's game is a negative for the Tigers (and, therefore, a positive for Mississippi investors).
From a situational standpoint, Missouri is coming off a bye, but the Tigers are a pedestrian 5-5 ATS off a week of rest during the regular season.  Moreover, Missouri head coach Gary Pinkel is 7-23 SU on the road versus .666 or better opposition, including 1-10 ATS from Game Eight out.  In contrast, Mississippi head coach Hugh Freeze is 24-7 SU and 22-6 ATS versus opponents with at least one loss on the season.  Finally, conference road favorites (i.e. Missouri) having one consecutive games prior to their bye are a 59% ATS losing proposition in their next game following the bye since 1980. With Mississippi standing at 10-2 ATS following a home game over the last two seasons, take the Rebels and invest with confidence.