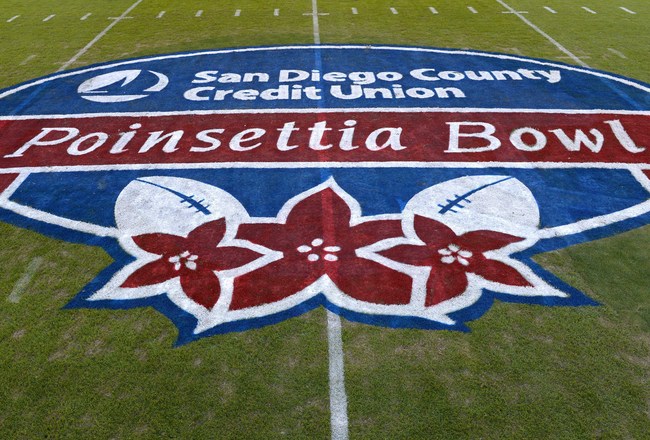 Northern Illinois epitomizes the "bubble burst" theory in handicapping as the Huskies completed a perfect 12-0 campaign and were eying a return trip to a BCS bowl before being upset by Bowling Green in the MAC Championship game. Now, instead of a coveted BCS bowl invite, then Huskies finds themselves in the Poinsettia Bowl against a Utah State squad that is more than capable of winning this game by double-digits. Northern Illinois arrives in San Diego with a 1st-year head coach, which is significant in that new coaches are a money-burning 15-31-2 ATS as a pick or favorite in bowl games. Meanwhile, Northern Illinois is a disturbing 7-27 SU following a loss when matched up against a .600 or better opponent.
Utah State possesses one of the best defenses in the nation as the Aggies are allowing just 17.3 points per game at 2.8 yards per rush play, 6.5 yards per pass attempt and 4.6 yards per play. Overall, the Aggies are 1.8 yards per rush play, 0.7 yards per pass play and 1.2 yards per play better than average defensively, which is certainly good enough to contain Jordan Lynch and the Huskies.
Utah State Defense vs. Northern Illinois Offense:
+0.1 yards pr rush play advantage
+0.4 yards per pass play advantage
+0.1 yards per play advantage
What I like most about Utah State is its "never give up" mentality as the Aggies lost star quarterback Chuckie Keeton to injury early in the season but rallied to win their last five games behind quarterback Darrell Garretson. Indeed, Utah State outscored opponents 168-51 with Garretson behind center before suffering a loss to Fresno State in the Mountain West Conference Championship game. The Aggies should have success moving the ball against a sub-par Northern Illinois stop unit that is yielding 26.2 points per game on the road this season, including 434 total yards at 8.1 yards per pass attempt.
Utah State also possesses far superior special teams, which is very important in postseason play. Finally, going down the handicapping checklist for bowl games, Utah State satisfies all of the important criteria: Motivation, Experience (14 returning starters), coaching and a more excited fan base. With Utah State standing at a perfect 7-0 ATS off a loss and 7-0 ATS versus .700 or better non-conference opponents, take the Aggies and invest with confidence.