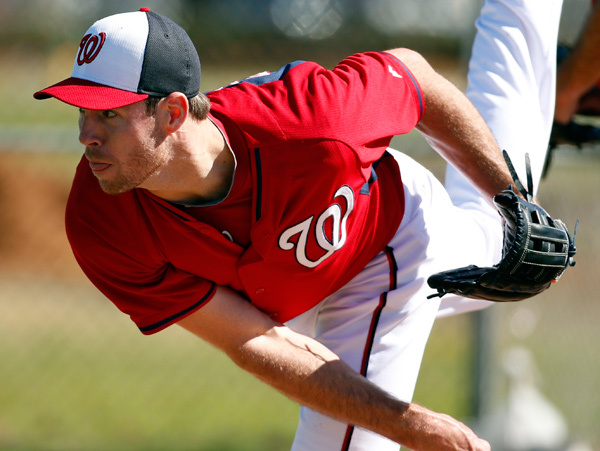 Washington right-hander Doug Fister is one of the hottest pitchers in baseball as he is 3-0 with a 2.13 ERA and 0.91 WHIP over his last four starts.  Let'a also note that Fister is 2-0 with a 2.77 ERA and 0.92 WHIP at home and 2-0 with a 1.96 ERA and 0.87 WHIP in three day starts.  Overall, Fister is 3-1 with a 3.34 ERA and 1.07 WHIP in 2014, but he missed more than a month due to a right lat strain.  Fister is also supported by an outstanding Washington bullpen that boasts a 2.16 ERA and 1.18 WHIP this season, including a 1.92 ERA and 1.22 WHIP at home, a 1.94 ERA and 1.09 WHIP versus division opponents and a 1.66 ERA and 0.83 WHIP in afternoon games.
The other promising sign for Fister is the fact that the Nationals have provided him with at least five runs in each of his last four starts, including scoring nine or more runs in two of those games.  "Run support in general is always an important stat," Fister said.  "It's something that's not only a number thing, it's a morale booster, it's a momentum builder, it's everything that a team wants to do, and it's kind of the equivalent to a pitcher going out there and putting up zeros.  Guys have more confidence.  Guys have more rhythm when we're scoring and hitting the ball well." Fister's peripheral numbers are fully supported by the most meaningful metrics as he owns a 3.35 xFIP and a 3.24 SIERA.
Meanwhile, Philadelphia starter Kyle Kendrick has become one of the most vanilla pitchers in baseball.  While relatively consistent, Kendrick has been far from dominant as evidenced by his woeful 42-21 strikeout-to-walk ratio in 68 1/3-innings of work.  Overall, Kendrick is 1-5 with a 4.21 ERA and 1.36 WHIP this season, including going 0-2 with a 4.70 ERA and 1.23 WHIP on the road, 0-1 with a 5.29 ERA and 1.76 WHIP in day games (17 IP; 10 ER; 23 H; 7 BB) and 0-1 with a 6.26 ERA and 1.47 WHIP versus division opponents (23 IP; 16 ER; 25 H; 9 BB).  Kendrick is also 5-8 with a career 5.01 ERA and 1.45 WHIP versus the Nationals, including allowing a combined 12 runs (ten earned) in his last two outings at Washington (8 2/3 IP; 19 H; 10 ER; 6 K; 4 BB).
Philadelphia also own a subpar bullpen that has a 5.27 ERA and 1.71 WHIP on the road and a 4.35 ERA and 1.41 WHIP versus division opponents.  The team's respective offenses are also heading in opposite directions as the Nationals are batting .289 with a .342 on base percentage over the last seven games (5.9 runs per game), while Philadelphia is hitting .215 with a .274 on base percentage over that span (2.9 runs per game).  From a technical standpoint, Philadelphia is a money-burning 24-51 as underdogs, including 5-26 (-17.3 units) as large underdogs and 22-38 (-21.0 units) in the month of June.  The Phillies are also 5-22 in their last 27 games on the road versus teams with a winning record, 2-8 in Kendrick's last ten starts on the road and 1-7 in Kendrick's last eight outings in game 3 of a series.
In contrast, Washington is 28-13 at home versus teams with a losing record, 47-22 as favorites and 4-0 in Fister's last four starts.  I should also note that the Phillies are 1-7 in Kendrick's last 8 starts in Washington.  With Washington standing at 8-1 in the last nine meetings between these two squads, lay the number with the Nationals and invest with confidence.