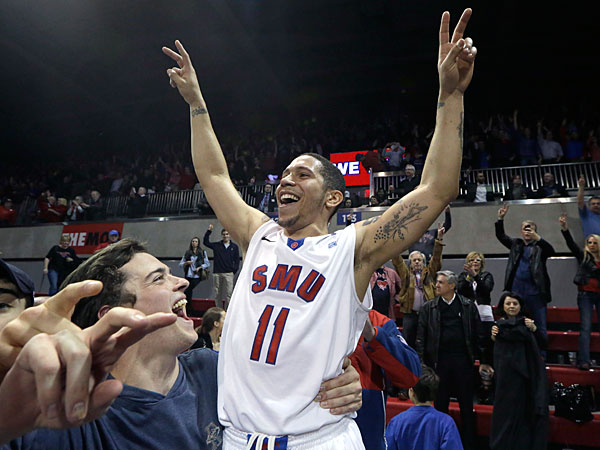 I have been saying for weeks how underrated SMU was, and the Mustangs have cashed two of my largest selections of the season with wins over ranked Memphis and Cincinnati.  Here is the analysis my private clients received Saturday morning:
SMU (-3.5) (-110) over Cincinnati
Analysis: SMU's strength is its defense that is allowing a mere 61.3 points per game to teams that would combine to average 70.4 points per game, thereby making the Mustangs 9.1 points per game better than average defensively. More importantly, SMU is a perfect 12-0 SU and 8-0 ATS at home this season where the Mustangs are limiting opponents to just 57.0 points per game on 33.8% shooting from the field and 27.0% from beyond the arc. SMU is second in the nation in field-goal percentage defense, 19th in points allowed and has held 23 of its last 32 opponents to under 40% shooting (17 of 23 this year). Let's also note that the Mustangs have outrebounded 18 of 21 opponents this season and have outscored their opponents in 20 of 23 games in the paint this year.
Meanwhile, Cincinnati arrives in town with a woefully inadequate offense that is averaging 60.6 points per game on the road on 40.8% shooting from the field. Overall, the Bearcats are averaging 69.9 points per game against teams that would combine to allow 69.4 points per game, thereby making coach Mick Cronin's squad 0.5 points per game better than average offensively. Based on the fundamental analysis, SMU possesses a significant 8.6 points per game advantage defensively over the Bearcats' attack. That advantage is only magnified by the team's respective home/road splits this season (SMU better defensively at home; Cincinnati worse offensively on the road).
On the offensive end of the floor, SMU is averaging 78,2 points per game at home this season on 53.7% shooting from the floor and 38.5% from three-point territory. The Mustangs are leading the conference in field goal percentage and are ranked 8th nationally (49.4%). While Nic Moore (13.7) and Markus Kennedy (12.2) lead the team in scoring, seven Mustangs are averaging at least 5.3 points per game. And, in its six games inside the newly-renovated Moody Coliseum, SMU has an average scoring margin of +21.2.
For technical support, let's note that SMU is a perfect 8-0 ATS as a home favorite, 8-2 ATS versus conference opponents, 12-4 ATS off a home win and 11-4 ATS after winning five of its last six games, whereas the Bearcats are a money-burning 6-15 ATS versus teams with a winning record, 5-14 ATS versus teams who are limiting opponents to 42% or worse from the field and 9-21 ATS following a conference game. One of the most impressive stats that I have seen is the fact that SMU head coach Larry Brown's teams are an incredible 114-18 (.864) at home, including 19-7 (.731) at SMU. Brown has quietly developed SMU into one of the best teams in the nation as the Mustangs' win over No. 22 Memphis (87-72) was the program's second win over a ranked opponent in four weeks. On January 4, SMU defeated No. 17 Connecticut (74-65) . Take SMU to make it three straight over ranked opponents and invest with confidence.