New York Looks to Win Series vs. Tampa Bay Behind Southpaw C.C. Sabathia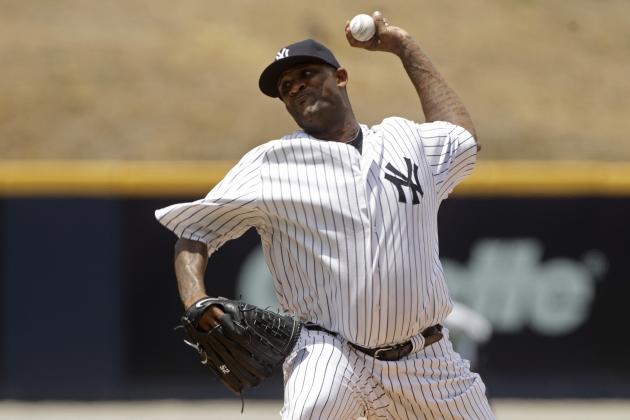 Despite failing to earn a rotation spot out of Spring Training, Tampa Bay southpaw Erik Bedard toes the rubber this afternoon at Yankee Stadium. Bedard signed a Minor League contract with the Rays on February 14, then exercised the opt-out clause in his contract and was released March 25 after Tampa Bay selected Jake Odorizzi for the fifth-starter role on March 22. Bedard then signed a Minor League contract on March 28 and was selected to the Major League roster from Triple-A Durham on April 13.
Bedard is 0-9 in his last fifteen starts, which is the second-longest active losing streak in baseball behind Cleveland's Carlos Carrasco (17 starts; 0-12). As for this season, Bedard is 0-1 with a 5.52 ERA and 1.84 WHIP, including garnering a 6.39 ERA and 1.89 WHIP in three starts. Bedard is 4-5 with a career 4.35 ERA and 1.34 WHIP versus the Yankees, but he has allowed a combined 17 earned runs on 23 hits in his last nineteen innings pitched against New York. In his last two outings at Yankee Stadium, Bedard has yielded 13 earned runs on fourteen hits in just 8 1/3-innings of work. Current New York players have hit Bedard to the tune of a .286/.363/.439 (.802 OPS) line.
Bedard is also hampered by an under-achieving Tampa Bay bullpen that owns a 4.23 ERA and 1.37 WHIP in 2014, including a 5.09 ERA and 1.61 WHIP on the road, a 5.14 ERA and 1.41 WHIP in day games and a 5.72 ERA and 1.98 WHIP over the last seven games. Meanwhile, some baseball observers are casting doubt on C.C. Sabathia's results this season, but his overall metrics have been extremely strong. Sabathia has demonstrated outstanding command and control, and continues to induce groundballs at an elite level (53% GB rate). Let's also note that Sabathia takes the mound in good form with a 3.50 ERA over his last three outings (20/5 K/BB). Overall, Sabathia owns a career 3.71 ERA and 1.29 versus the Rays, although he dominated Tampa Bay in his lone outing this season (7 IP; 1 ER; 6 K).
Sabathia should continue to improve upon his season numbers against an anemic Tampa Bay lineup that is batting .226 with a .300 on base percentage on the road (3.2 runs per game), .226 with a .303 on base percentage in day games (2.9 runs per game) and .235 with a .309 on base percentage over the last ten days (3.8 runs per game). I also like the fact that Sabathia is supported by a solid New York bullpen that boasts a 3.71 ERA and 1.35 WHIP at home and a 2.97 ERA and 1.18 WHIP in day games.
From a technical standpoint, Tampa Bay is a money-burning 15-33 (-16.2 units) as underdogs, including 11-29 (-16.6 units) as road underdogs and 2-14 (-11.3 units) as road underdogs between +125 to +175. In contrast, New York is a profitable 64-36 (+13.2 units) as favorites over the last two seasons, while Sabathia is 158-57 (+48.8 units) as a favorite of -150 or more in his career. Finally, today's home plate umpire, Marvin Hudson, represents a 61.3% winning proposition for home teams over the last three seasons (4-2 this season for home squads). Take New York and invest with confidence.