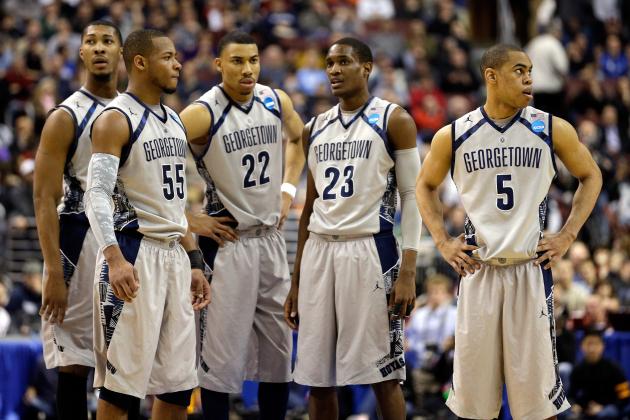 Georgetown (+6) (-110) over Villanova
Georgetown is an extremely dangerous home underdog tonight as the Hoyas have lost four straight and are desperate to save their season with a win over Villanova at Verizon Center. Georgetown could not have asked for a better opponent as the Hoyas lead this series 42-29, have won eight of the last ten meetings (7-3 ATS) and are 21-12 at home versus the Wildcats. And, when Villanova owns a win percentage of .823 or greater, the Hoyas are an impressive 6-1 SU and ATS in this series. Meanwhile, Georgetown head coach John Thompson III is a profitable 16-8 SU and 18-6 ATS as an underdog of less than seven points versus .810 or greater opposition, including 8-1 SU and 9-0 ATS in the last nine games.
Georgetown possesses one of the best backcourts in the nation with D'Vauntes Smith-Rivera and Markel Starks. Smith-Rivera leads the team in scoring with 17.5 points per game and also ranks among the league leaders in field goal percentage (15th; 47.1%), assists (14th; 3.1), free throw percentage (5th; 84.4%), three-point field goal percentage (4th; 45.4%) and assist-turnover ratio (12th; 1.6). Smith-Starks also ranks third on the team with 4.8 rebounds per game. The key to Georgetown's offense is point guard Markel Starks, who is averaging 16.2 points per game and leads the team with 3.9 assists per game. Starks has scored in double-figures fifteen times this season and is averaging 24.5 points in the last two games.
The strength of Georgetown's backcourt is best epitomized by the following numbers: Smith-Rivera and Starks are averaging 33.7 points, 7.0 rebounds, 7.1 assists and 2.1 steals per game this season. The two have combined to score 47.0 percent of Georgetown's total points (641 of 1,364) by shooting 43.5% from the floor, 38.9% from three-point territory and 84.7% from the free throw line (150-of-177). Georgetown's front court is manned by Mikael Hopkins, who leads the team with 5.9 rebounds and 1.6 blocks per game. Hopkins is averaging 7.8 points, 7.2 rebounds and 2.2 blocks over the last six games.
Georgetown is 8-2 at home this season where the Hoyas are limiting opponents to just 61.3 points per game on 37.2% shooting from the field. Overall, the Hoyas are 6.4 points per game better than average defensively (67.4 points per game to teams that would combine to average 73.8 points per game), which is good enough to contain Villanova's attack that is 10.5 points per game better than average. Georgetown ranks fourth in the Big East in scoring defense, first in field goal percentage defense (39.6%) and second in three-point field goal percentage (30.5%). More importantly, the Hoyas rank No. 17 in the nation in field goal percentage defense and No. 10 in the country in three-point field goal percentage defense.
The situation strongly favors Georgetown as the Wildcats are coming off an exhausting 94-85 overtime win at Marquette Saturday, which is significant in that Villanova is a money-burning 2-10 ATS when playing its second game in three days over the last three seasons. Finally, I have been quietly noticing the steady decline of Villanova's defense as the Wildcats are allowing 73.2 points per game on the road, 73.0 points per game versus conference opponents and 75.4 points over their last five games. That decline is good news for a Georgetown offense that is averaging 74.3 points per game on 47.3% shooting from the field at Verizon Center this season. Grab the inflated number and invest with confidence.