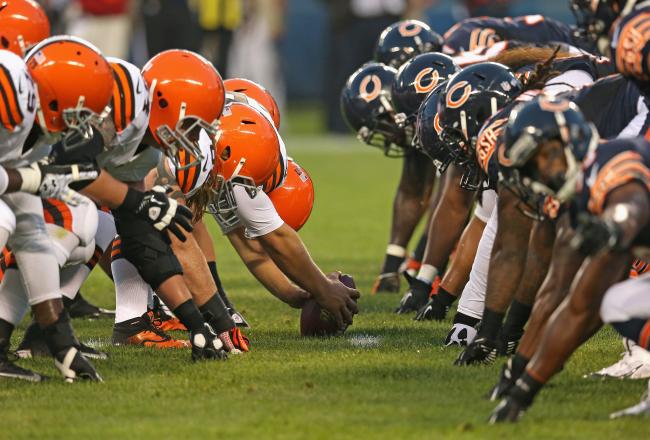 Chicago Bears at Cleveland Browns (+1) (-110)
Despite standing at 4-9 in the standings, the Browns have actually outgained each of their last six opponents and own a +25 yards per game advantage overall in 2013.  Cleveland owns a very good defense that is 0.4 yards per rush play, 0.8 yards per pass attempt and 0.6 yards per play better than average, which is certainly good enough to slow down a potent Chicago attack.  The Bears are averaging 28.3 points per game at 4.5 yards per rush play, 7.4 yards per pass attempt and 6.2 yards per play this season.
Cleveland Defense vs. Chicago Offense:
+0.1 yards per rush play advantage;
+0.3 yards per pass attempt advantage;
+0.2 yards per play advantage overall
Meanwhile, Chicago arrives in town with a woeful stop unit that is yielding 27.7 points per game at 5.2 yards per rush play, 7.2 yards per pass play and 6.2 yards per play.  Even more alarming is the fact that the Bears are allowing 32.2 points per game on the road at 6.0 yards per rush play, 7.4 yards per pass attempt and 6.7 yards per play.  Overall, Chicago is 1.0 yards per rush play, 0.4 yards per pass attempt and 0.5 yards per play worse than average defensively in 2013.  Based on those numbers, Cleveland's sub-par offense actually maintains a slight +0.3 yards per play advantage over the Bears' stop unit.  Chicago will also be without linebacker Lance Briggs, who participated in practice Thursday but has been ruled out for today's game.   The Bears rank last in the league against the run at 157.0 yards per game and 27th in overall defense at 381.5 yards per game.
From a technical standpoint, Chicago is a money-burning 9-31 ATS in December games, 6-15 ATS following a home game and 3-11 ATS in competitively-priced games (+3 to -3), whereas the Browns are a profitable 8-1 ATS following three or more consecutive losses.  I like the Browns this afternoon as the wrong team is favored.
New England Patriots at Miami Dolphins (-1.5) (-110)
The loss of New England tight end Rob Gronkowski cannot be overstated.  According to the Boston Globe, Tom Brady completed 56.9% of his pass attempts without Gronkowski on the field this season as compared to completing 64.7% of his passes from Week Seven on with Gronkowski on the field.  The loss of Gronkowski cannot be understated, and the Dolphins take the field with a decent secondary that is 0.3 yards per pass play better than average this season.  The Dolphins are also fighting for their playoff lives as they are currently tied with Baltimore for the sixth and final playoff spot.   "All the games are going to be tough," Miami cornerback Brent Grimes said.  "We just need to win.  I don't know how you're looking at it, but we need to win.  We need to take care of our business."  I like Miami in today's contest.