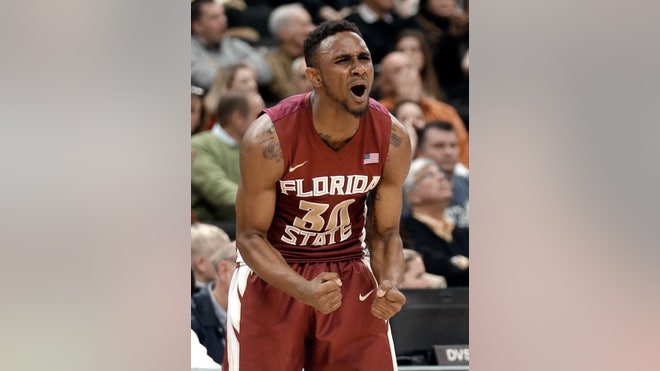 Florida State (+1) (-110) over North Carolina
Investment Advice: The Seminoles are a 4* investment at a pick or better and become a 3* investment at -1 point. 5Dimes, BetOnline and Bovada are three off shore sports books that currently have Florida State +1.
Rotation Number: 706
Analysis: With their season on the line and down sixteen at Wake Forest, the Seminoles proceeded to outscore the Demon Deacons 55-34 over the final 26 minutes of the game to secure its sixth win in conference play. Now, in desperate need of a marquee win to keep its NCAA Tournament hopes alive, Florida State welcomes one of the hottest teams in the nation to the Donald L. Tucker Center. "We're definitely aware, because at the end of the day that's our biggest goal, to make the NCAA Tournament, coming off the NIT last year," said guard Montay Brandon. "We keep up with that kind of stuff. We are a very competitive bunch. We know what we are capable of. We just have to do it on a consistent basis." Florida State sophomore Aaron Thomas, who earned the first double-double of his career with 19 points and 14 rebounds against Wake Forest on Saturday emphasized the importance of tonight's game against the Tar Heels. "I know it should be that way every game, but tomorrow we should definitely come out there focused and ready to play, because we know we can be embarrassed on ESPN pretty bad. We've got to go out there and be ready to play from the get-go."
Florida State's success this season is predicated upon an outstanding defense that is allowing just 64.6 points per game on 38.6% shooting from the field to teams that combine to average 70.6 points per game. More importantly, the Seminoles are 8-3 at home this season where they are limiting opponents to a mere 61.7 points per game on 38.4% shooting from the floor. Led by Boris Bojanovsky, who had six blocked shots against Wake Forest, the Seminoles lead the ACC with 145 blocked shots this season. Moreover, in five of its six conference wins, Florida State has held its opponents below 38% shooting from the field and limited them to an average of 55.6 points per game. In what best illustrates Florida State's potential on the defensive end of the floor, the Seminoles limited Duke to just 30.5% shooting from the floor on January 25. Overall, Florida State is 6.0 points per game better than average defensively, which is good enough to contain a North Carolin attack that is averaging just 70.8 points per game on the road (25.9% 3-PT).
Florida State's offense is led by sophomore All-ACC candidate Aaron Thomas, who is averaging 19.2 points and 6.0 rebounds in five starts this season, including shooting .451 from the field and .565 from beyond the arc. Thomas enters tonight's game as the Seminoles' leading scorer with a career high 13.3 points per game. It's also important to note that Thomas is one of the most unheralded players in the league as he ranks fifth in steals (1.7), seventh in free throw shooting percentage (.825) and eighteenth in scoring (13.3) in the ACC. The return of senior Ian Miller, who missed two games versus Virginia Tech and Maryland, has also sparked the Seminoles' attack as he is averaging 19.0 points on 59.0% shooting from the field and 61.5% from three-point territory since returning two games ago. Miller enters tonight's game shooting a career-best 45.0% from the field and a career-high 87.7% from the foul line, while also boasting a career-high 2.7 rebounds per game and a career-high 2.7 assists per game.
Overall, Florida State is averaging 71.0 points per game on 46.7% shooting from the field, which is 4.4 points per game better than average offensively. However, the Seminoles offense excels at home where they are averaging 75.7 points per game on 48.7% shooting from the floor, 41.5% from beyond the arc and 73.6% from the foul line. Overall, Florida State possesses a 0.4 points per game advantage offensively over the Tar Heels' stop unit, which is 4.0 points per game better than average (67.6 points per game to teams that would combine to average 71.6 points per game). And, in what is expected to be a very competitive game, Florida State possesses a significant advantage from the charity stripe. In fact, the Seminoles are shooting 71.1% on the season, including 73.6% at home and 76.4% over their last five games. In contrast, North Carolina is making just 62.3% of its free throws, including 62.1% in conference play.
Defense will ultimately win tonight's game for Florida State as the Tar Heels are a money-burning 13-30 ATS on the road versus teams who are limiting opponents to under 40% from the field. North Carolina is also coming off an emotional win over Pittsburgh Saturday, which is significant in that the Tar Heels are 3-11 ATS with limited rest. The situational analysis also favors the Seminoles as North Carolina has a huge game against Duke on deck so a look-ahead by the Tar Heels is certainly possible tonight. Finally, in what would be considered blasphemy in Chapel Hill, I believe Florida State has a coaching edge in tonight's contest. Roy Williams is 31-44 ATS on the road off a conference win and 16-29 ATS versus good defensive teams, whereas Leonard Hamilton is 53-33 ATS (.616) in competitively-priced games (+3 to -3) during his tenure at Florida State. Finally, my math model actually favors Seminoles by two points so we are getting decent line value with the home squad. Take Florida State and invest with confidence.
Rating: 4*