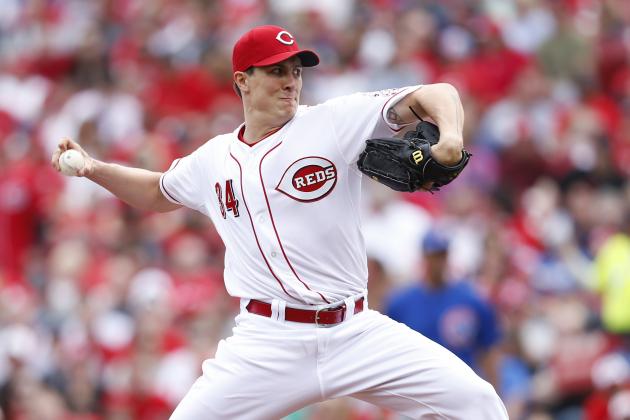 Despite a disappointing start to 2014, Cincinnati right-hander Homer Bailey is a legitimate breakout candidate as he is coming off a career-year wherein he garnered a 3.49 ERA and 1.12 WHIP. In fact, no pitcher in baseball has improved his primary statistics and skills more than Bailey:
2010: 4.53 ERA and 1.47 WHIP
2011: 4.46 ERA and 1.37 WHIP
2012: 3.68 ERA and 1.28 WHIP
2013: 3.49 ERA and 1.12 WHIP
Bailey's metrics continue to improve from one season to the next as his fastball has gained a couple mph, while his swinging strike rate has increased from month-to-month. I refuse to panic over Bailey's first two starts because (a) it involves a small sample size against the same team; and (b) he has eight strikeouts in 9 1/3-innings of work so his command remains intact. Let's also note that Bailey is 8-5 with a 2.91 ERA and 1.14 WHIP in sixteen career starts against the Pirates.
Pittsburgh arrives in town after being swept by the Brewers, and the Pirates' fortunes are now in the hands of 25-year-old Wandy Rodriguez, who missed the second half of last season with a strained flexor tendon. Rodriguez saw his strikeout rate drop below the league average last year, and his results this season have been underwhelming. Specifically, Rodriguez is 0-2 with a 5.73 ERA and 1.64 WHIP, including yielding four earned runs on nine hits at Wrigley Field in his last outing (5.0 IP). Let's also note that Rodriguez is 8-12 with a pedestrian 4.21 ERA and 1.35 WHIP in 30 career starts against the Reds.
Pittsburgh also fields an anemic lineup that is batting .221 with a .295 on base percentage (3.7 runs per game), including hitting .214 with a .278 on base percentage on the road (3.7 runs per game) and .215 with a .277 on base percentage over the last ten days (3.4 runs per game). In contrast, Cincinnati is 2-1 versus left-handed starters this season against whom the Reds are averaging 5.0 runs per game (.348 OBP). With Rodriguez standing at 0-3 with a 4.78 ERA in his last six starts against Cincinnati, take the Reds and invest with confidence.