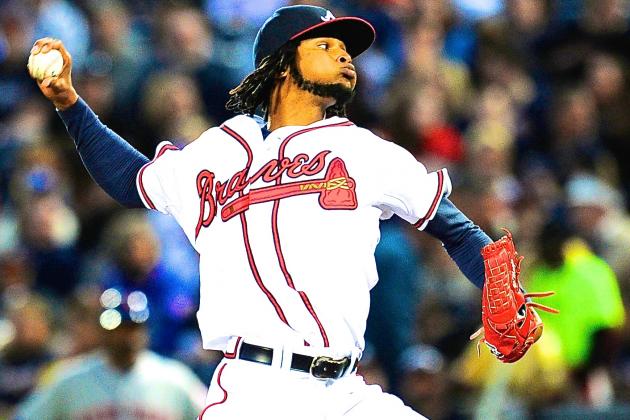 Atlanta has not been swept in a series this season, and I do not expect it to happen tonight against the Marlins. Despite dropping the first two games in this series by an 18-6 run margin, the Braves remain confident in what they are capable of producing on the field. "We're still confident here," Braves third baseman Chris Johnson said. "I think we think we can beat anybody. We just got our butts whipped a couple nights. That's really all you can say. It's going to happen. We're going to lose back-to-back games again at some point this season. I think tomorrow is a big game."
Atlanta right-hander Ervin Santana has been nothing short of spectacular this season as evidenced by the fact that he is 3-0 with a 1.95 ERA and 0.97 WHIP. Moreover, Santana is 1-0 with a 1.38 ERA and 10.7 WHIP on the road, 2-0 with a 0.86 ERA and 0.81 WHIP versus division opponents and 1-0 with a 2.75 ERA and 1.22 WHIP over his last three outings. Santana's peripheral statistics are fully supported by his skill set as evidenced by his 13% swinging strike rate, together with an impressive 31/5 K/BB ratio in 27 2/3-innings of work.
Santana is also supported by a very good Atlanta bullpen that owns a 3.26 ERA and 1.29 WHIP in 2014, including a 3.15 ERA and 1.13 WHIP on the road and a 1.15 ERA and 1.08 WHIP over the last seven games. Indeed, Atlanta relievers have only allowed three earned runs in 26 1/3-innings dating back to April 20! With David Carpenter regaining the consistency he lacked in early April and Jordan Walden having held opponents scoreless in his past nine appearances, the Braves' bullpen has reduced its ERA from 4.74 to 3.26 over the past eight games.
While Miami starter Henderson Alvarez is enjoying a great start to the 2014 campaign, he has always struggled against the Braves. Alvarez is 0-2 with a career 6.86 ERA and 1.57 WHIP versus Atlanta, including yielding a combined 14 earned runs on 20 hits in his last 16 innings pitched against the Braves. Let's also note that Alvarez is 1-11 (-11.5 units) at home versus division opponents, while the Marlins are 91-148 (-43.8 units) versus right-handed starters over the last three seasons.
Finally, Atlanta is known for bouncing back from an embarrassing loss as evidenced by the fact that the Braves are 24-8 (+17.9 units) on the road following a loss by six or more runs to a division opponent. With Ervin Santana standing at a near-perfect 11-1 (+9.4 units) as a favorite between -125 to -175, take the Braves to avoid the sweep and invest with confidence.